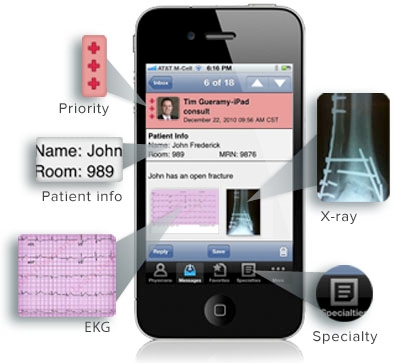 McLennan County Medical Society is excited to introduce DocBookMD®. By partnering with DocBookMD®, we can offer a next-generation HIPAA-compliant multimedia communication tool exclusively to our members.
DocBookMD®, is a smartphone platform created by physicians for physicians. It enables physicians to connect, communicate and collaborate within their local medical community.
DocBookMD® is currently offered on the iPhone, iPad and iPod TOUCH, and will soon be available on the Android platform.
GET STARTED – It's as easy as 1, 2, 3!
Registration for DocBookMD is simple and can be completed right on your iPhone, iPad or iPod Touch.
First you will need to have your MCMS Member ID ready. If you do not know it, contact MCMS at (254) 776-2882 or email admin@mclennancountymedicine.org
Then go to your phone and download the FREE app from the iTunes App Store. Click here for a step by step guide.
Once you have downloaded the app to your device, open it up and follow the simple registration steps.