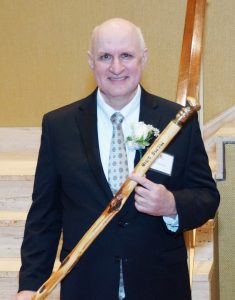 Dr. Tim Martindale was presented with the Gold-Headed Cane Award by the McLennan County Medical Society at a banquet on Friday, April 13 at the Lee Lockwood Library.  This was the 19th year the member physicians of the McLennan County Medical Society nominated and voted for one of their colleagues to receive this award.  Based on a tradition that originated England in the 1600's the qualifications of the recipient include professional standing, good citizenship and personal integrity and is a symbol of respect, truth, culture and art in the medical profession.  Here in the United States, many larger cities have carried it on to honor an outstanding physician with a long history of commitment to quality medicine in their community.
Dr. Martindale, a former pastor and journalist, attended the University of Houston and then the University of Texas in Austin before finishing medical school at UTMB in Galveston.  He completed his residency in family medicine at the Family Medicine Residency Program here in Waco, where he graduated as Chief Resident before joining Providence Hospital and opening his own practice while also serving as medical director of the Freeman Center for over 10 years.  In addition, Dr. Martindale has served as Chief of Staff for Providence Hospital, Board Chair of McLennan County Medical Education and Research Foundation, President of the Central Texas Academy of Family Physicians, member of the Waco Leadership Forum and 2 terms as President of the McLennan County Medical Society, most notably during the 150th anniversary of the organization in 2016 when he oversaw the creation of an oral history project, endowed scholarships at Baylor University and McLennan Community College, an historical exhibit, a marker from the Texas Historical Commission and the History of Waco Medicine research project.
Dr. Martindale has been married to wife, Denise, for 35 years.  They have 3 children, including a son practicing medicine in New York, and 2 grandchildren.
read more